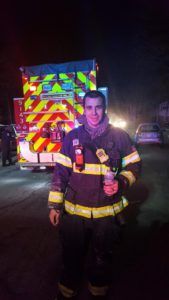 For Trey Thomure, becoming a firefighter offered him a chance to have a rewarding career while also giving back to his hometown.
"O'Fallon is where I live and it has always been my goal to serve the community I live in," says Thomure, a former computer programmer. "O'Fallon is a very progressive department, on the cutting edge of modern fire and rescue.
"I'm excited to be part of a district that encourages its crew members to never be complacent and instead always be challenging ourselves to further our training and education in a field that's constantly changing."
After switching careers, Thomure became a licensed paramedic and received the following EMS certifications: Basic Life Support for Healthcare Provider, Advanced Cardiac Life Support, Pediatric Advanced Life Support, and Prehospital Trauma Life Support.
Outside of work he enjoys golfing and working out, and spending time with his wife and their dog.