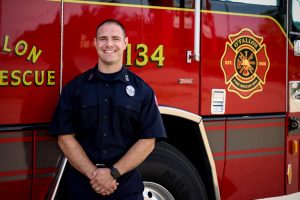 Joe McCune joined the O'Fallon Fire Protection District (OFPD) as a firefighter/paramedic in May 2022 after serving in the Missouri Air National Guard and gaining experience in a rural ambulance district and urban fire department. 
"Growing up, I always looked up to military members and first responders. I believe the courage required to do the difficult tasks that many are unable to do attracted me to the fire service," said McCune.
He says that being prior military made the transition to firefighter seamless, noting, "instead of responding to deployments overseas to help, we are helping right here at home at house fires and medical emergencies." 
While his most memorable experience serving the community was helping rescue someone from a house fire, his favorite part of the job is the camaraderie at the fire station.
McCune served as an air traffic controller for the Missouri Air National Guard while completing his firefighter training at the St. Louis Fire Academy and paramedic training at St. Louis Community College. He also worked as a patient care technician in the emergency department at a local hospital during this time. During his military service, he rose to the ranks of a staff sergeant and was deployed to Al Asad Air Base in Iraq. McCune is a graduate of Hazelwood West High School in St. Louis. 
McCune is a certified paramedic and firefighter who is also specially trained in hazardous materials (hazmat) operations, technical rope rescues, fire ground survival and national incident management techniques. 
When he is not on duty, McCune can be found staying in shape for the job practicing Brazilian jujitsu and weight lifting or traveling with his wife who is a pediatric emergency department nurse in St. Louis.