The new millennium brought about numerous changes for the district with the passing of a $0.25 general tax revenue tax increase. Residential and commercial construction growth was going on at a record pace raising the estimated population in O'Fallon from approximately 51,000 residents in 2000 to just over 79,000 in 2010. The Board of Directors identified the need to increase the response capabilities of the agency through the construction of facilities and adding staff and equipment. The tax increase provided funding to hire additional shift personnel for Stations #3 and #4.
Between 2000 and 2009, call volume increased 28%. In 2000, 56% were EMS related incidents and in 2009 45% were EMS related.
A significant ice storm hit O'Fallon in January of 2007, just before midnight on January 13. The storm lasted for nearly 24 hours. The National Weather Service estimated ice accumulations in the area at over a half-inch. During the 48 hours of January 13 and 14, O'Fallon units responded to 160 calls for service, with 129 directly related to the storm, including one structure fire from arcing power lines.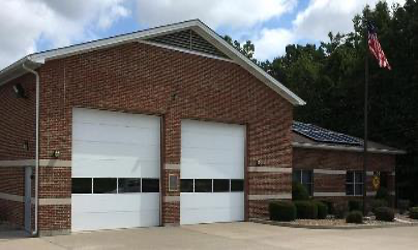 In 2001, three captains were promoted to battalion chief and an additional 15 firefighters were hired to man Station 4, making a total of 39 personnel on shift duty 24/7. The district's aerial apparatus was relocated from Station #1 to Station #4 to reduce the response time into a large apartment complex and the district's main industrial area on Hoff Road.
In 2001, the original building constructed in the 1970s was demolished, and construction on a new facility was started. In early 2002, construction was completed with an additional 12 firefighters hired to staff the station to provide full-time coverage at Stations #1, #3, #4, and #5 making a total of 51 shift personnel. The daily staffing was 17, with a minimum staffing of 13.