Between 1960 and 1970, O'Fallon's population nearly doubled to just over 7,000. Though the department could not have foreseen the growth that would occur in the ensuing decades, their timing in taking the department to a new level could not have been better.
The Department began its petition to replace the fire tag system with assessed taxation. The Missouri General Assembly changed the law to allow all counties to form tax districts. If the election to create a fire district passed, the Board would have the power to set a levy of up to thirty cents per one hundred dollars evaluation without voter approval. With an estimated assessed valuation of $15,000,000 in the district, they would net $45,000 annually. While not sufficient to create paid firefighter positions, the department would have to remain a volunteer force until funds could be accumulated.
To make a case for the tax district, a newspaper article dated October 14, 1970, laid out the issues facing the O'Fallon Volunteer Fire Department:
An annual operating budget of about $22,000 was needed, but the actual annual income was approximately $15,000.
The Missouri Inspection Bureau required that a first-line pumper be no more than fifteen years old, and the current one was eleven years old. A new truck needed to be purchased at the cost of around $40,000 within the next four years. The current budget did not afford the luxury of setting up a special fund for the new truck.
The alerting system left much to be desired and served too large an area.
The Department asked for a tax of 15 cents per hundred dollars assessed valuation. On that basis, a residential home with an assessed valuation of $4,800 would have an additional tax of $7.20 per year for fire protection. A rural home on three acres with an assessed evaluation of $7,500 would pay an additional $11.25 for fire protection.
At the November 3, 1970 election, the voters approved the formation of the O'Fallon Fire Protection District.
Ownership of all the O'Fallon Volunteer Fire Department's equipment was transferred to the district, including:
One Seagrave Pumper with 500-gallon water tank, 1000 feet of 3" hose and 400 feet of 2 ½" hose, 1 ½" Jiffy Line and other related equipment.
One four-wheel-drive International Pumper with 300-gallon water tank equipped for brush and structural fires.
One GMC Pumper with 200-gallon water tank with 1,000 feet of 2 ½" hose, 300 feet of 1 ½" hose and other equipment.
Dodge van converted into a rescue unit
The newly elected three-member Board of Directors of the Fire Protection District was named Glennon Prinster, president and members Norbert Stegman and Lewis Korman. Soon after that, the District adopted a fire and building code to comply with the requirements of the Missouri Inspection Bureau, which allowed residents to realize savings on their insurance premiums.
In 1972, new protective gear was ordered for each firefighter, and in April of 1974, a new Ford L-900, 1300-gallon tanker pumper was put into service for Station #1. A new alerting system was put into operation on June 2, 1975. The Department then went on the county dispatch system with 40 F.M. Plectron radios being distributed to firefighters that could be taken with them at all times. The Plectrons were single-channel emergency radio receivers manufactured from the 1950s to 1990.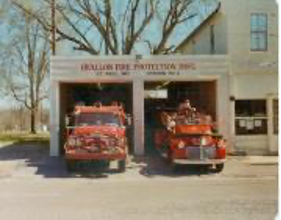 In 1975, another station was needed to serve the north end of town and the stretch along Highway P into St. Paul. The fire department found a home in a building that was originally a bank and post office and later Vomund's Purina feed store for Station #2. Another new 4-wheel drive International Truck with a 500-gallon water tank was ordered for Station #2. The 1941 GMC pumper was retired from service and utilized as a parade truck.
In 1978, Mr. and Mrs. Frank Keeven donated land with a steel building on Laura Hill Road. On May 18, 1980, Station #3 was dedicated. It was expanded several times in years to come to add a kitchen and sleeping quarters. In 2002, the steel building was replaced with the current brick building.