In 1941, the fire department took over the brick building next to the white frame fire station on West Elm. The brick building was a Work Progress Administration (WPA) project. It had a single bay garage on the east side and the room on the west side housed the city's abandoned wellhead by which the water tower had been filled.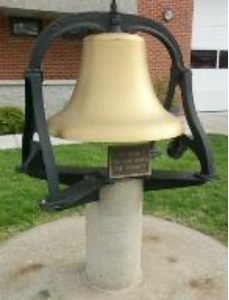 The original fire station was torn down sometime during World War II, and the bell was almost lost to the scrap metal drive. However, it was retrieved by a volunteer firefighter and eventually mounted in front of the fire station built on Elm Street in 1961. Named the Memorial Bell, it is rung at the passing of a former or current firefighter.
Later that year, a 1941 GMC Pumper was purchased for $4,500. This firetruck remained in service through 1981. A 1947 Chevrolet was the department's first truck to have an enclosed cab.
The volunteer firefighters raised money to purchase apparatus and equipment. During World War II, annual street dances and euchre tournaments were held during the summer. The success of the event was dependent on the weather. During a good year, the fire department could raise as much as $1200 to $1500; if it rained, their income went down to $600 to $800. Sometimes donations from private individuals or other organizations were collected.
Firefighters worked to raise enough money to keep the firehouse and the equipment going. They fought fires with whatever clothes they had without protective gear.