Fire Chief Thomas Vineyard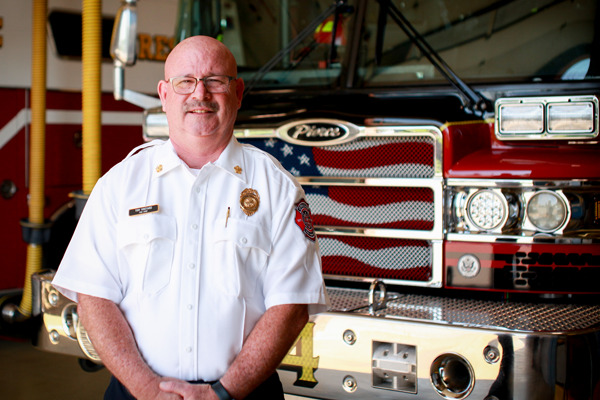 Chief Thomas Vineyard began his fire service career in 1988 with the Mid-County Fire Protection District of St. Louis County. He was promoted to captain in 1995, to training officer in 1999 and was appointed fire chief in 2004. Chief Vineyard also served as fire chief with the Monarch Fire Protection District from 2012 through 2014. Chief Vineyard was hired as Fire Chief of the O'Fallon Protection District on May 19, 2014. He currently lives in St. Peters with Maureen, his wife of 24 years, and their children, Benjamin and Hanna.
Chief Vineyard's current Missouri certifications include
Firefighter I & II
Fire Officer I & II
Fire Inspector
Fire Investigator
and Fire Instructor II.
He currently holds national certification as a fire department national safety officer. He is also a hazardous materials technician and duty officer with the St. Charles County Hazardous Materials Response Team. He has been through training on the National Incident Management System basic, advanced and command-level courses. He serves as president for the Greater St. Louis Area Fire Chiefs Association. Chief Vineyard has an associate's degree in fire technology and is currently completing his bachelor's degree in fire service management from Southern Illinois University Carbondale.