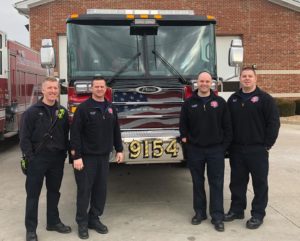 Cody Willis has always known he wanted to be a firefighter. He joined the crew at O'Fallon Fire Protection District as a junior firefighter in 2011 and said he quickly realized he wanted to spend his career there.
"I went to the fire academy right out of high school in 2012, and then subsequently pursued EMS training, earning my paramedic license in 2016," he says. "I live in O'Fallon and I can't wait to serve my hometown community."
For Willis, being part of the "brotherhood" and being able to help the community during times of need is the best part of the job.
"Seeing the reactions of our patients' family members can be really tough," he says. "As a first responder, it means a lot when patients or their family members take a moment to thank crews at the scene for great, personable contact — that's what we strive to do with every call we respond to, and it's good to know it makes a difference."
In his free time, Willis enjoys golfing and hunting.