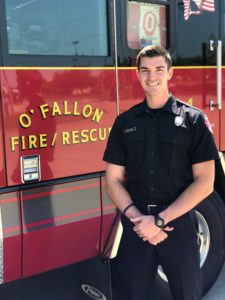 For firefighter/paramedic Blake Koppel, civil service is the family business — he's a third-generation firefighter (including both of his parents)!
"Simply put, I became a firefighter/paramedic to help people in need," Koppel says.
He recalls a particularly memorable call from his career, where his crew was dispatched to treat a woman experiencing a heart attack. The crew later crossed paths with her at a local grocery store.
"She came up to all of us with a huge smile on her face and gave us all hugs," Koppel says. "She had endless amounts of thank yous but we let her know that she was more than welcomed and that it was our job.
"The satisfaction from seeing her alive and healthy was good enough for us."
Koppel, who joined the O'Fallon Fire Protection District ranks in May 2019, says he was eager to join a fire department known for its progressive attitude, great administration and camaraderie among crews.
"Crews stay at the firehouse for 48 hours straight, eating, sleeping and training together," Koppel says, "so it's really important that we enjoy each other's company."
While Koppel says it can be a challenge "to leave work at work," he finds time to relax when hanging out with family, friends, his fiancée (a teacher), and their dog, Jax.
Koppel is a graduate of Lindenwood University, where he earned a bachelor's degree in fire and paramedic science. He also attended the St. Louis County Fire Academy, and says he looks forward to continuing his education throughout his career.