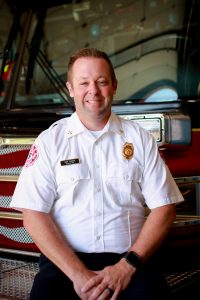 Battalion Chief Andy Parrish is the recipient of the 2019 O'Fallon Fire Protection District William F. Westoff Firefighter of the Year Award. Since joining the O'Fallon Fire Protection District in 1991 as a volunteer firefighter, Parrish has been a transformational member of the team. 
In addition to rising through the ranks professionally, Parrish was instrumental in the development of many of the District's volunteer-based programs, including Citizen AED-CPR Training, the OFPD Honor Guard and the O'Fallon Firefighters Community Outreach volunteer organization.
"Andy is one of those people who always steps up to do what needs to be done to get the job done, and to get it done right," OFPD Chief Tom Vineyard says. "He has been instrumental in developing our District into an organization that is truly committed to protecting and serving our community. He exemplifies what it means to be a team player, and has passed his strong work ethic on to the next generation of OFPD firefighters and emergency medical professionals."
Over the past 28 years, Parrish served as president and vice president of the O'Fallon Firefighters Community Outreach. He was a member of the Honor Guard for 24 years, and volunteered on the labor management, hiring, safety and truck committees. In 2002, received a commendation for rescuing a victim of a house fire on Lakepoint Drive in O'Fallon. 
Throughout his years of service, Parrish has continued to develop his skills as a first responder, receiving certifications as an EMT, CPR-AED instructor, fire investigator, fire service instructor, fire officer and incident commander. 
When he received the honor of Firefighter of the Year, Parrish was asked what he would like recognized, and his first response was to thank his wife Lori for her unconditional love and support. Parrish and his wife have four children and four grandchildren. 
About the William F. Westoff Firefighter of the Year Award
William F. Westhoff was primary among those who organized the O'Fallon Volunteer Fire Company in 1906. That's when the little shed was built behind Goldkamp's Market and the cart bearing the chemical extinguisher was purchased through the donations of civic-minded citizens. When a fire broke out, the first person to reach the bell alerted everyone within earshot.
One of Frederick Westhoff's five sons, William was part of the family that started the mercantile store that bore the family's name for the next hundred years, as well as the grain elevator and the light and power company. William became the fire company's first chief, a post he held until 1929 and was also the city's mayor from 1923 to 1929.
The William F. Westoff Firefighter of the Year Award honors those who exemplify the best of the O'Fallon Fire Protection District to support our commitment to protecting our community through effective emergency response, leadership and volunteerism.